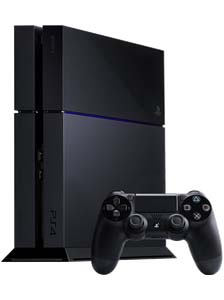 If you are looking for a Playstation 4 repair U-Tech Electronics has the expertise, parts and tools to professionally repair it and get it back to working condition in no time. When your Playstation 4 needs anything from a motherboard repair to a broken HDMI port you can count on our experience to get it done fast and efficiently.
Device Description
Playstation 4 Summary
The Playstation 4 GPU was a gaming console graphics solution by AMD, launched in November 2013. Built on the 28 nm process, and based on the Liverpool graphics processor, in its CXD90026G variant, the device supports DirectX 11.1*. The Liverpool graphics processor is a large chip with a die area of 348 mm². It features 1152 shading units, 72 texture mapping units, and 32 ROPs. AMD includes 8 GB GDDR5 memory, which are connected using a 256-bit memory interface. The GPU is operating at a frequency of 800 MHz, memory is running at 1375 MHz (5.5 Gbps effective).
Its power draw is rated at 75 W maximum. The console's dimensions are 305 mm x 275 mm x 53 mm, and it features a igp cooling solution.
Playstation 4 Repairs
Playstation 4 Blinking Blue Light
Playstation 4 Blinking Red Indicator Light
Playstation 4 Motherboard
Playstation 4 Power Supply
Playstation 4 HDMI Port
Playstation 4 Hard Drive Replacement
Playstation 4 Controller Repair
Playstaion 4 Disk not Reading
Playstation 4 Models
CUH-1000: Original PS4, released in November 2013
CUH-1100: Slim PS4, released in September 2016
CUH-1200: Slim PS4 (2017 model), released in September 2017
CUH-2000: Pro PS4, released in November 2016
CUH-7000: Pro PS4 (2018 model), released in September 2018
Let us Fix Your Playstation 4
Free Diagnostics / Estimates
Same Day Repairs
Only High Quality Parts
Professionally trained Technicians
Friendly customer service
Limited Lifetime Warranty
For more technical information about this device visit here.